Troubleshooting
Listary crashes shortly after starting up
Please delete C:\Users\\AppData\Roaming\Listary\UserData\DiskSearch.db and try to start Listary again.
Listary is activated unexpectedly when using keyboard or touchpad
Open Listary Options – Hotkeys, uncheck Press Ctrl twice to show/hide Listary.
Please also send a bug report on the forum or using the contact form, thank you!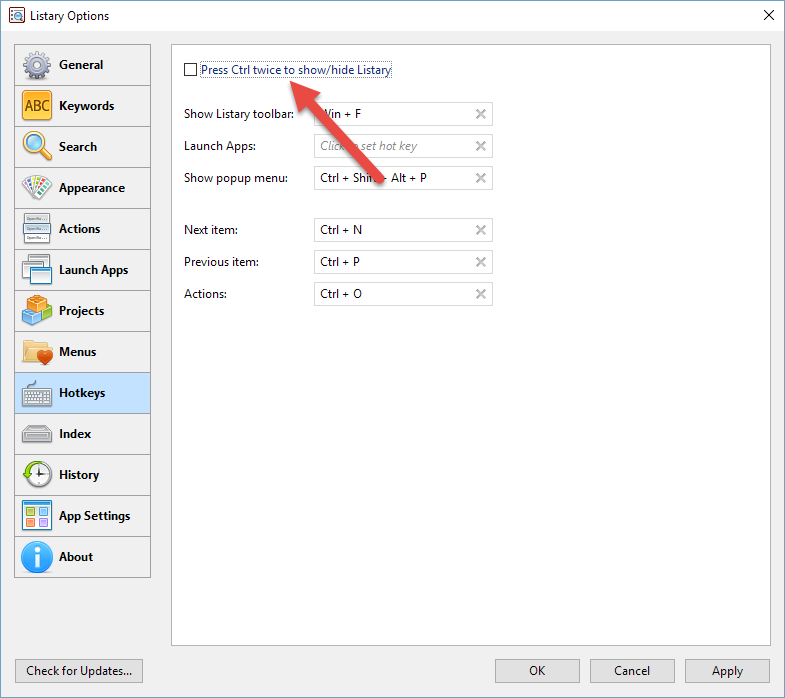 Disable Listary for an application
Activate Listary in that app.
Move your mouse toward the 3 dots.
Click the 3rd button.
Select "Disable Listary".


"Disable Listary for This Application" doesn't appear
Open Listary Options – App Settings.
Click the add button and select the application (e.g. "C:\Windows\System32\Taskmgr.exe").
Uncheck the checkbox before it.
Click OK or Apply.